'Say Something Bunny' Will Speak to Those of Us Who Fall Prey to Rabbit Holes
While browsing around in a thrift store in Williamsburg several years ago, I came across a box full of old photos and postcards. As I rifled through, I realized they were of no one in particular, just random people. I bought several, feeling mildly uncomfortable as I brought photos of strangers to the cashier, but not enough to deter me from posting them on my bulletin board above my desk at home, as if I were displaying members of my own family.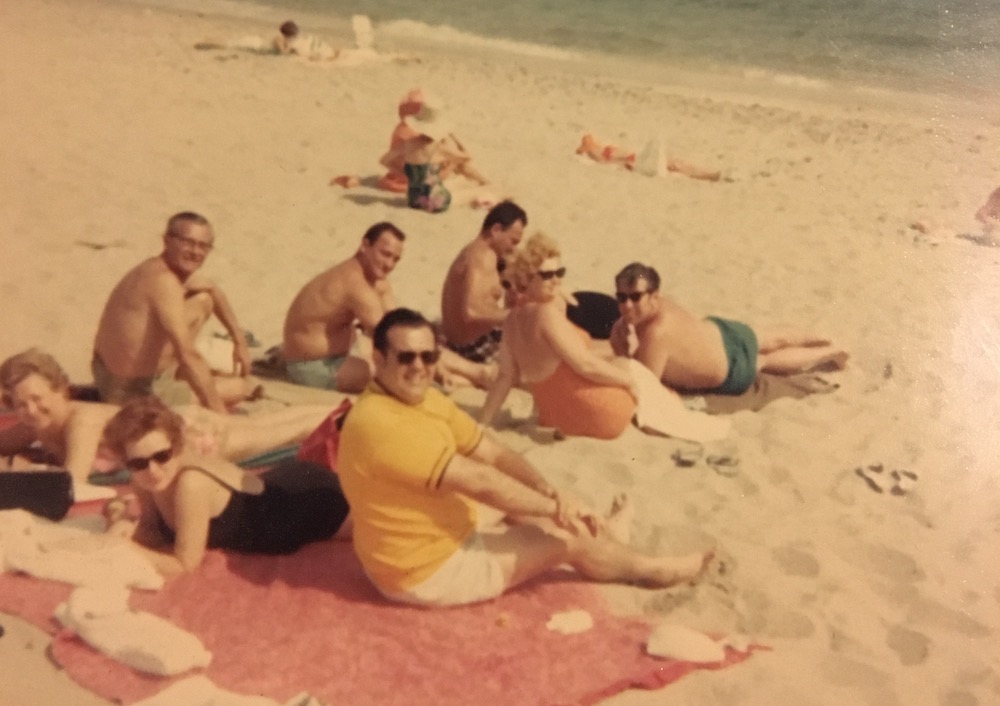 Photo of mid-century family on beach that I found in Williamsburg store
For me, the photos exuded a comforting, mid-century American nostalgia. One showed a group of family or friends spread out on beach blankets -- the women in one-pieces, the men in swim trunks. Another was of two older men in business attire in the sitting room of a house, next to a sliding porch door that led to a garden. I stared at these photos, wondering about the people in them, who were likely gone or very old, but here they were frozen of time.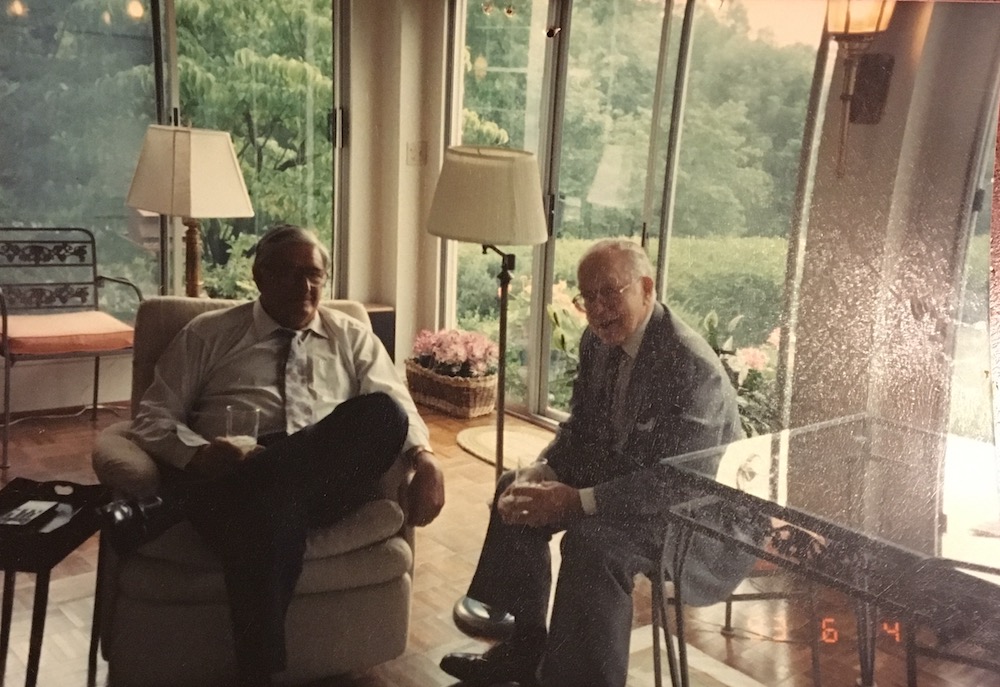 Photo of two men, also found in Williamsburg thrift store
I also find myself fixated on photos of my own family from around the same era, several of which I acquired when my grandmother passed away in 2014. Some of my favorites from this collection: my grandma and grandfather sitting in a rocket-shaped car on an amusement park ride, my dad in the apartment we first lived in in Chicago in the early 1980s in front of a bare wall in a plaid shirt and big glasses.
Photo of my dad from the early 1980s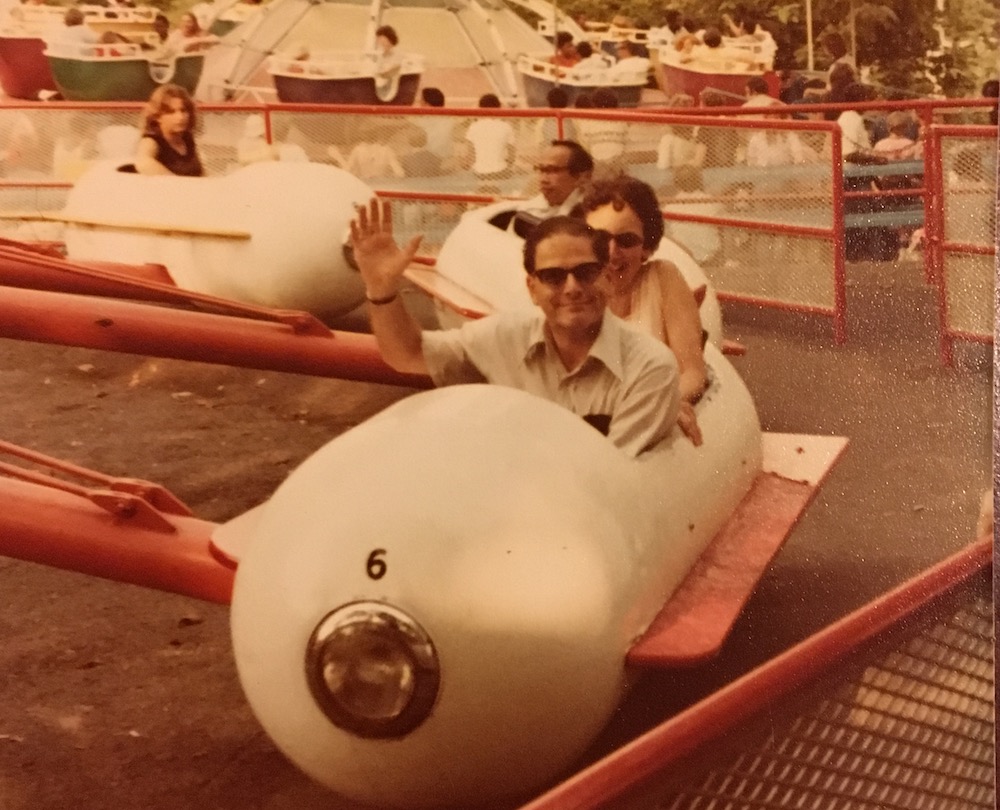 Photo of my grandparents, year unknown
I was reminded of these nostalgic photos by the hit independent play I recently saw Say Something Bunny created by Alison S.M. Kobayashi and Christopher Allen and performed by Kobayashi. The play offers us a window into a Jewish family from the 1950s through today, through old recordings Kobayashi discovered and her extensive historical research.
Say Something Bunny play brings the audience in with a read-through format
The evening begins a bit like mystery theater, with audience members choosing our seats around a massive, donut-style table that feels like it belongs either in a conference room or on the set of Dr. Strangelove. Kobayashi tells us to take out a script from a cubby underneath the table in front of us that says Say Something Bunny on the cover. She assigns us each a role, as if we are in a read-through, and proceeds to play for us two conversations on a wire recorder involving a family, the Newburges. In the first, the Newburges are spending dinner in 1952 with neighbors who are getting ready to move to the Philadelphia suburbs. In the second, we are with the Newburge family around Thanksgiving.
Cornell student newspaper from early 1950s that Say Something Bunny creator Alison S.M. Kobayashi found, with a headline story about the play's central character
Kobayashi, a found objects artist, acquired the wire recorder -- a now obsolete technology that was overtaken by the more functional tape recorder -- through friends who bought it at an estate sale. It belonged to David Newburge, the eldest son, who used it to tape these two get togethers Kobayashi plays for us. Though there are over 20 voices on the recorder, Kobayashi has managed to identify each person through extensive research that included U.S. Census records, college yearbooks and newspapers, and research on popular theater during the 1950s-70s.
For those reluctant to participate, do not worry, we are not actually required to read the lines of our character -- rather we just follow along. Kobayashi will every so often speak to us as if we are that character. She frequently interrupts the recording to offer us background about each of the characters. At the end, audience members were blown away, perhaps even a little jarred by this personal window into a family's life, and its connection to themes of history and memory, Jewish assimilation and culture in America, family, and the fleetingness of time.
All of this comes out of a play that is built around two fairly unremarkable conversations among a family and their friends. We probably have equally unremarkable conversations like this at our own get togethers. But there is something interesting in learning how others, especially those in generations we can no longer access, spent the quotidian, banal moments of their lives.
Kobayashi's play will fascinate anyone, but I think it especially hooks those of us who have a tendency to go down rabbit holes into corner pockets of history, digging through, say, boxes of photos of strangers in Brooklyn thrift shops. Most of us come up after being submerged in this kind of a deep dive feeling like we wasted time. Maybe we mention it sheepishly to a few friends, but usually we try to move on to something more productive. Fortunately for us, Alison Kobayashi went down that rabbit hole, and came out with Say Something Bunny.